17 Ways to Remember Loved Ones at Your Wedding
Here's a list of ideas for how to honor and remember loved ones at your wedding…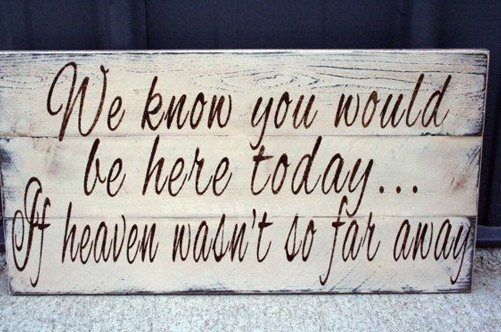 It is sad when someone you love cannot be with you to celebrate your special day.
Here's a list of ideas for how to honor and remember loved ones at your wedding:
If your father has passed away, attach photo lockets to your shoes or carry a small frame tied with a ribbon on your arm so he can still walk you down the aisle.
Dance to your loved one's favorite song.
Toast with their favorite wine or include their favorite drink on your bar menu.
Include their photo on your registration table so they can be part of your certificate signing photos.
Light a candle in memory of all those who are there in spirit but not in person.
Include locket frames on the handle of your bouquet with photos of you and your loved ones.
Purchase locket cufflinks and include photos to wear on the day.
Place a flower and or a picture of them on a seat at the ceremony.
Create a memory board or table of photos of loved ones who have passed, old wedding photos are a nice touch.
Cut a piece of your loved one's tie, shirt or scarf in the shape of a heart and sew it to the inside of your dress. This can also be your something old or blue.
Grooms can wear their father's tie to remember him on the day.
Pin a piece of heirloom jewelry on the inside of your dress so they are close to your heart.
Include a single stem of their favorite flower in your bouquet or boutonniere.
Mention your loved one during the ceremony or your reception speech.
Wrap an old tie or piece of lace around your bouquet.
Hang picture frames from chairs down the aisle with photos of all family members who can't be there.
Release doves or butterflies during the wedding in their honor.