Royal Caribbean Introduces New Fees for Runners
Royal 5K to be held in St. Maarten
Royal Caribbean Introduces New Fees for Runners Royal Caribbean International this week announced the first-ever Royal 5K to be held in St. Maarten, on Thursday, December 16, 2010. Open to guests sailing aboard Allure of the Seas' December 12, 2010 voyage, fellow running enthusiasts can pay $50 to enjoy a seven-night Eastern Caribbean cruise aboard Royal Caribbean International's newest ship; and opt for an entire week of exclusive, vitality-themed activities, including port explorations through group fun runs, onboard seminars and lectures with high-profile athletes; and jog, sprint or walk a magnificent five-kilometer course, taking participants through one of the Caribbean's island jewels.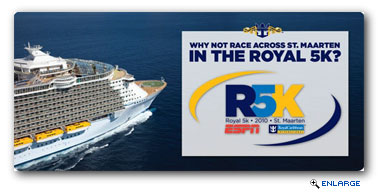 There is a $50 registration fee for adults, and $35 for children, for booked guests who sign up onboard and in advance. Participating guests also will receive a commemorative race t-shirt, as well as exclusive access to a post-race reception on board.
"Royal Caribbean is delighted to offer this very special Royal 5K run in St. Maarten to Allure of the Seas' guests," said Lisa Bauer, senior vice president, Hotel Operations, Royal Caribbean International. "As part of our commitment to provide guests healthier vacation options, we look for opportunities like these to enhance our Vitality programming onboard and drive awareness of a health-conscious lifestyle. Coupled with an unprecedented line-up of new entertainment aboard Allure of the Seas, guests on this sailing will have a wide spectrum of exciting and heart-pumping options for an amazing cruise vacation."
While the Royal 5K will be offered exclusively as a shore excursion on Allure of the Seas, all guests aboard the sailing have the chance to set the first Royal Caribbean jogging track record. Guests are invited to sign up in advance for a time slot on Tuesday, December 14, to test their running speed. Certified with RFID timing technology, they can attempt to set the cruise line's record for the fastest run at sea on Allure of the Seas' 0.46-mile long jogging track, the longest at sea.
Royal 5K participants also will be able to attend onboard seminars and receptions featuring running talents including Bart Yasso, the chief running officer of Runner's World magazine; Frank Shorter, an Olympic Marathon Gold and Silver Medalist; Sonja Friend-Uhl, a member of seven U.S. world teams, 2000 Olympic trials competitor in the 1500m, and currently ranked in the top 24 women in the U.S. for distances from the 5k to the Half-Marathon; and Sean Jefferson, an NCAA All American, 1600m National Champion and professional runner and tri-athlete.